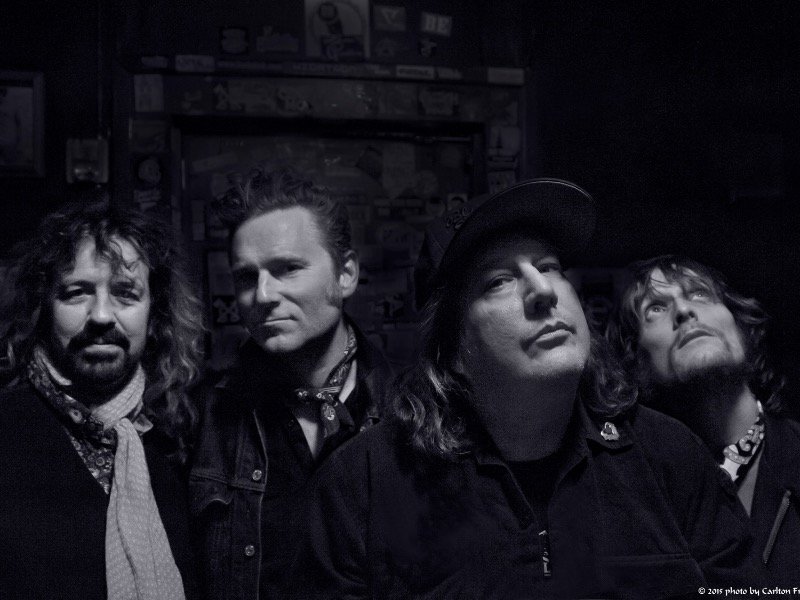 Drivin' N' Cryin' steers its way back to Summerfest
"I know they are great. I wanted to know why they aren't more of a rock 'n' roll success. I found out they are."
–Director Eric Von Haessler, who spent three years asking why his favorite band, Drivin' N' Cryin', wasn't world-famous in his 2016 documentary "Scarred But Smarter: Life N Times Of Drivin' N' Cryin'"
Out of the emerging mid-'80s Atlanta music scene, Drivin' N' Cryin' was born into the world as a working club band. It briskly rose up out of the famed 688 Club, selling it out after only a few shows based on its reputation as a must-see live band. The core of the band was Kevn Kinney on guitar – a Milwaukee native – and an upper Midwesterner, Tim Nielsen.
Thirty-three years later, Drivin' N' Cryin' is still a club band. However, in a plot twist, it's influenced a generation of Southern rockers.
The group has turned over the lineup a few times over the decades. The current band includes Dave V. Johnson on drums and newest member, guitarist Laur Joamer, who previously played with Sturgill Simpson.
"He brings big time slide stuff to the sound. It's a Tom Petty kinda feel and has brought a much different feel to the work," Nielsen said.
The group is working back towards the approach that helped define an era of Southern rock along with Collective Soul, REM and Pylon.
It started with the Anton Fier (The Feelies/Golden Palominos), who produced "Whisper Tames The Lion," which marked Drivin' N' Cryin's major label debut in 1988. The band charted on college radio behind the single "Can't Promise You The World," which set the table for 1989's hard-charging "Mystery Road," its most influential and critically acclaimed release. Paste Magazine recently ranked it 39 on its 50 Best Southern Rock Albums of All Time rankings. "Ain't It Strange," "Toy Never Played With" and "Honeysuckle Blues" could easily be slipped into rotation as current music.
This music has aged extremely well with time. Darius Rucker recently covered "Straight to Hell," the group's nominal hit from the hit album, with superstar friends Luke Bryan, Jason Aldean and Charles Kelley. It's created a Drivin' N' Cryin' buzz, bringing new fans to the group.
"We really had nothing to do with Darius' recording," Nielsen said. "He did it all on his own, but the exposure doesn't hurt."
It strengthens the band's case not only for being influential on Southern rock, but also serves as a testament to the weatherproofing effect of solid songwriting.
Kinney still has sizable support and family in the Milwaukee area, and the band's performed recently at Shank Hall and in Green Bay. Not to be outdone, Nielsen made his case as a Wisconsin expatriate: "I spent summers in Rice Lake when I was a kid. I love it up there. We hit Zaffiro's and Mars Cheese Castle. It's very comfortable. We're still friendly with Dan (Kubinski) from Die Kreuzen."
"We play festivals, events and, of course, clubs," Nielsen added. "Each has their own pluses. We find new fans at festivals and sell a lot of merch, but nothing beats a 300-person club where you're in touch with fans. We're still a bar band."
Good thing Summerfest booked them at the closest thing we have to a club setting on the grounds: the Johnson Controls World Sound Stage. Drivin' N' Cryin' will feel a lot more at home with proximity, walls and a roof. The group's played Summerfest a few times, including opening for the Replacements in 1991, but it's admittedly been a while.
"We had to cancel a few years back, and I don't think they liked that too much," Nielsen explained. "Our record company wanted us to work with a specific director for a music video. I'm glad they asked us back. We're excited to play back up there."
Currently Drivin' N' Cryin' is recording for a new full length release, the band's first since 2009's "Great American Bubble Factory" – a critical success but didn't really translate commercially. While the group is close to completion, it is clearly recording at a casual pace.
"We were playing a show in Charleston and slipped into a studio and recorded a track," Nielsen said. "It just felt right. Kevn is reworking vocals for a few of them. It will be done when it's done."
The band has adapted over the years, and the documentary "Scarred but Smarter," captures the label experience – the good and ultimately the bad. Island was its label at the peak, and they exerted some will on the direction of the band.
"These days things are lot different. We are now working with streaming (services) playlists on Spotify, even iTunes is pretty much done," Nielsen clarified, "We have an incredible group of millennials that run our social media and show us the way."
Don't expect to hear much off the upcoming release at its Summerfest show, however. We will have to wait for that, though the band doesn't usually use a traditional set list. "The hour time slot – mostly hits, a few deeper cuts," Nielsen confirmed.
It's a three-decade old story for the punk-gone-folk band that performs with grace and passion, soon to transform the Johnson Controls World Sound Stage into its own private bar show for a Milwaukee guy gone good and his bandmates.
View article: https://onmilwaukee.com/seasonal/festivals/articles/drivin-n-cryin-interview.html